Tourists enjoy peaceful Shikara boat rides, explore floating gardens, and witness the harmonious coexistence of nature and architecture through the favourite Mughal Gardens…reports Zehru Nissa
Summer capital Srinagar continues to captivate the hearts and minds of tourists from around the world, despite newer attractions being added every year for the explorers and leisure seekers.
Known for its breathtaking natural beauty, rich cultural heritage, and warm hospitality, Srinagar has long remained on top of travelers' itineraries.
Despite the challenges posed by high travel and boarding costs Srinagar is a must-visit destination for those seeking an immersive and unforgettable experience, tourism operators and planners say. Nihal Sharma, a tourist from Mumbai, shared his experience, saying, "Visiting the Mughal Gardens in Srinagar was like stepping into a dream. The meticulously manicured gardens, vibrant flowers, and the backdrop of the majestic Himalayas created a surreal and serene ambiance". Sharma summed up his experience by saying, "Srinagar is a destination that surpasses all expectations. Its natural beauty, architectural wonders, and warm hospitality create an unforgettable journey that lingers in your memories long after you leave."
Nestled in the picturesque Valley, Srinagar boasts awe-inspiring landscapes that seem straight out of a fairy tale. With the serene Dal Lake as its centerpiece, Srinagar's beauty is unrivaled and has been the center stage of hundreds of Bollywood movies.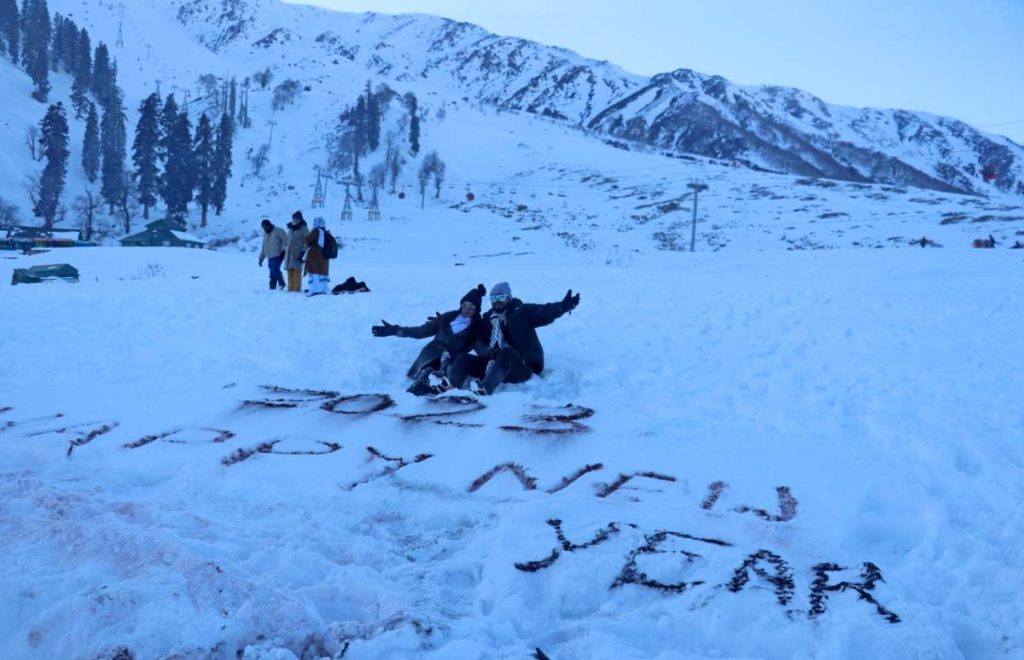 Tourists enjoy peaceful Shikara boat rides, explore floating gardens, and witness the harmonious coexistence of nature and architecture through the favourite Mughal Gardens.
Srinagar's architectural wonders reflect its diverse cultural influences and historical significance. The majestic Jama Masjid, built in the 14th century is a traet for those interested in history of the City. Mohsin Khan from Meerut shares his excitement, saying, "As a history enthusiast, visiting Jamia Masjid in Srinagar was a dream come true. The intricate architecture and the sense of serenity within the mosque left me in awe of the city's rich historical legacy."
The Hazratbal Shrine, revered as one of the holiest Muslim shrines, attracts devotees and tourists alike. Khan said it was his long cherished wish to visit all the shrines and mosques in Srinagar and experience the spiritual exhilaration.
For many tourists, the Shankaracharya Temple, situated atop a hill, provides a panoramic view of the city and its surroundings, apart from providing a religiously significant experience.
In addition, the architectural marvels blend seamlessly with the city's natural beauty, offering a unique and unforgettable experience. Sonali Thakkar is one such tourist who arrived from Bulandshahar to visit Shankaracharya temple before she went on her journey into the mountains of Sonamarg.
Srinagar has been called a melting pot of cultures, making it a treasure trove for history enthusiasts. Barkha Guha from West Bengal shares her enthusiasm, saying, "Since childhood, I had dreamt of traveling on a Shikara boat in Srinagar. It was a surreal experience gliding through the tranquil waters of Dal Lake, surrounded by floating gardens and the majestic Himalayas. Srinagar has truly lived up to my expectations."  The traditional Kashmiri cuisine, with its aromatic flavors and delectable delicacies like Rogan Josh and Kashmiri Pulao, is a culinary delight that leaves a lasting impression on the taste buds, says Guha.
Over 13,000 perform Amaranth Yatra on day 4
Over 13,000 have performed the ongoing Amarnath Yatra on its 4th day while another batch of 6,107 pilgrims left Jammu for Kashmir on Wednesday.
Officials said over 13,000 Yatris had 'Darshan' inside the Amarnath cave shrine on Tuesday, and since the Yatra started on July 1 a total of over 50,000 had performed the pilgrimage so far.
"Another batch of 6,107 Yatris including 4,680 males, 1203 females, 31 children, 154 Sadhus and 39 Sadhvis left Bhagwati Nagar Yatri Niwas in an escorted convoy of 244 vehicles for the Valley this morning," officials said.
Yatris approach the Himalayan cave shrine either from the traditional south Kashmir Pahalgam route which involves an uphill trek of 43 Kms from Pahalgam base camp or from the north Kashmir Baltal base camp which involves 13 Kms uphill trek.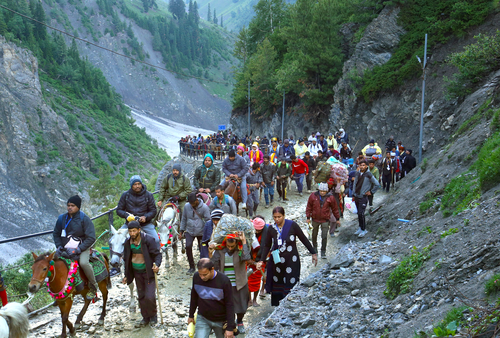 Those using the traditional Pahalgam route take 3-4 days to reach the cave shrine while those using the Baltal route return to the base camp the same day after having 'Darshan' inside the cave shrine situated 3888 metres above the sea-level.
Helicopter services are also available for Yatris on both routes.
The cave shrine houses an ice stalagmite structure that devotees believe symbolises mythical powers of Lord Shiva. The ice stalagmite structure wanes and waxes with the phases of the moon.
This year's 62-day long Amarnath Yatra started on July 1 and will end on August 31 coinciding with the Shravan Purnima festival.
To protect the pilgrims from high altitude sickness, authorities have banned all junk food at the free community kitchens called the 'Langars' that have been set up along both the routes of the Yatra. The banned items include all bottled drinks, halwai items, fried foods and tobacco based products.