The right-handed batter has risen through multiple setbacks, on and off the field, emerging triumphant through his gritty and sticking-to-his-guns approach, coupled with tons of belief, whether batting in India or abroad…writes Niharika Raina
Before February 16, 2023, the list of Indian cricketers playing over a hundred Test matches stood at 12. On Friday, February 17, the exclusive club will have a new and its 13th entrant in top-order batter Cheteshwar Pujara when India take the field for the second Border-Gavaskar Trophy match against Australia at the Arun Jaitley Stadium.
In a way, entering this exclusive club will be a life-coming-full-circle moment for Pujara. He had made his Test debut coincidentally in the second Border-Gavaskar Trophy match against Australia at the M. Chinnaswamy Stadium in Bengaluru in October 2010, making 72 in a successful chase of 207 where he came ahead of Rahul Dravid.
In these 13 years of playing Test cricket, Pujara has managed to keep himself relevant in a fast-paced era through sheer perseverance, following his style and calling consistently, to be now on the verge of clocking a century of Test match appearances for India. His father and first coach Arvind firmly believes Cheteshwar going to play his 100th Test is a saubhagya attained by doing tons of tapasya.
"This is a great occasion. For playing in a hundred Test matches, there are so many factors involved like fitness and diet as well as the never-ending excitement of playing the game. For example, in diet, if you like ice cream or shrikhand a lot, you cannot eat beyond the limit as you have to play cricket and your reflexes have to be good. I want to say that you have to be in control of all things."
"When all of that comes (together), then (only) a player is able to play 100 Tests. It is a moment of Saubhagya (very good fortune) for all of us. He had an interest in cricket since childhood and has always liked playing the game. His interest in the game is by heart. Playing for a long time is the essence of his game. It is not an easy thing as one has to do a lot of tapasya (penance). Plus, there are so many aspects involved, like emotional ones too. If you see from our perspective, then I would say it is a reward of tapasya," he said to IANS.
For Sheldon Jackson, who is currently with Saurashtra side for the Ranji Trophy final in Kolkata, it is a moment of great joy to see his team-mate from U14 days achieve a coveted landmark in Test cricket. "For all of us, it's not only a celebration for him, but it is a celebration for all of us who come from Saurashtra who have seen him come up, especially with me seeing him from U14 days."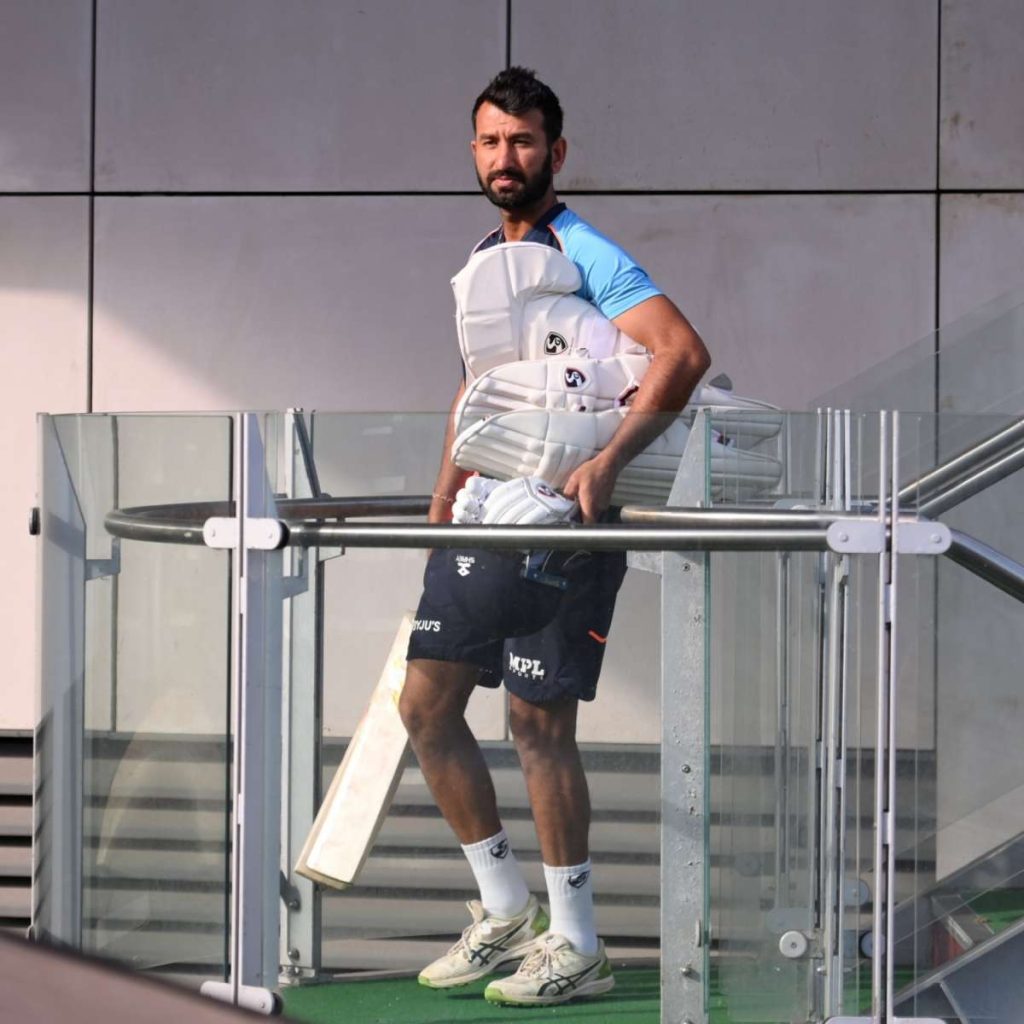 "So, for all of us, it's a huge celebration and achievement which is of everyone. It is his family, wife, father, and everyone's achievement. His father has sacrificed a lot and has been behind him. It's a huge achievement for him and for everyone who's connected to him," he told IANS.
The idea of making Cheteshwar a Test cricketer came to Arvind, who played six first-class matches for Saurashtra in the 70s, when he saw a picture of him as a kid with a bat in hand, instantly sparking curiosity in his mind.
"When he was small, around two and a half years old, then a person known to me, who was a photographer and he came with my brother-in-law. He liked the look and face of Cheteshwar, so he thought of taking a picture of him. So, we dressed him up with a cap on head and bat in hand and took him to a nearby garden named race course."
"He then took the photo and I didn't see it initially as I don't have much interest in the photo. One day, my wife (Reena, Cheteshwar's mum) said to me in the afternoon that 'this is a great photo and you didn't see it'. On seeing that photo, I instantly realised that he can play the game."
Cheteshwar's initial cricketing lessons from Arvind came under a tree in the modest Railways' staff quarters in Rajkot, where the father would bowl underarm to his son, laying the base for playing the ball with a straight bat for hours. The result of that routine is what the world has seen in his 99 Tests through punchy drives – straight or through the gaps, as well as resolute defence, something which has been very handy in adverse scenarios for India.
"One thing is to play in the line of the ball. Plus, he was a kid of four-five years old. If one bowls over the arm to a small kid, the ball will bounce and go over, which will make him a little bit scared and chances of being injured too. So, better is, if you bowl underarm to a kid, then the biggest advantage is he will play the ball on merit."
"Like, if you bowl on the off-side, then he will bat through the off-side. If one bowls straight, then he will bat straight and if one bowls on the leg side, then he will play through mid-on. From there, the habit of playing straight began," he explained.
Jackson believes the nucleus of Cheteshwar's cricketing abilities has come through Arvind's influence. "Everyone mostly knows about him, but I think his father is his backbone. Because I have seen him from the U14 stage, and strongly feel his father is one of the main reasons for the kind of cricketer he is. His father has a huge, huge role in that."
Asked about his favourite knock of Cheteshwar from his Test career, Arvind replied his measure point has been the right-handed batter playing according to the situation.
"Cricket is a game where you have to play as per the situations in the game. Sometimes you get runs in the first over or have to wait till the 50th ball to get a run."
"So, saying a particular knock is great will not be fine as the atmosphere of cricket is such that you have to play according to the situation. If you are not getting runs, then it's okay, but you are not giving away your wicket to make runs later."
Cheteshwar has got centuries against every major Test nation. It is just ironic that his 100th Test match is coming against Australia, an opposition against whom he averages 52.77, and was a key architect of India's 2-1 triumphs over them in the 2018/19 and 2020/21 series.
The right-handed batter has risen through multiple setbacks, on and off the field, emerging triumphant through his gritty and sticking-to-his-guns approach, coupled with tons of belief, whether batting in India or abroad.
"All I can say is he's not changed a bit, like what he was when we played U14 to now, he's pretty much the same, on and off the field. Very, very calm, composed. He's the best at what he does, because of him we have won so many Test series not only in the country but also outside of the country, because of his willingness to stand there, keep on taking blows after blows on the body. I feel what he does is just amazing," adds Jackson.
Come Friday, Arvind will be in attendance at the Arun Jaitley Stadium in New Delhi with Cheteshwar's wife Puja and daughter Aditi to see him take the field in what will be a landmark occasion. After all, he's reached 100 Tests through his style, calling and perseverance, making him one of a kind.