Every time you buy a Fabindia product you contribute to the heritage of textiles and weaving traditions of India…reports N. Lothungbeni humtsoe
"Sustaining fabrics and weaves are an integral part of our Indian culture," says Dipali Patwa, Group Head of Brand, Digital, and Community at Fabindia Ltd. In an effort to save India's textile heritage, the fashion industry has grown significantly, with many brands, including FabIndia, stepping forward to help art, craft, handloom, and weavers towards preservation of textile heritage.

Dipali Patwa speaks about how over the last six decades the brand is restoring India's dying weaves, while also attempting to empower women in rural areas through the promotion of traditional weaving skills.

How is Fabindia reviving the dying weaves of India?

Patwa: The handwoven fabric in India is a symbol of India's textile heritage. The art of weaving has been passed on from generation to generation in a weaver's family. Fabindia serves as a link between the rural artisans who manufacture these dying crafts and the urban customers who want traditional products to wear as well as textiles to decorate their homes. The initiatives at the brand have been aimed at implementing significant efforts in reviving and conserving age-old weaving techniques of our artisan groups.

Community is at the heart of brand's supply chain. We currently work with craft and artisan groups in Madhya Pradesh for Chanderi and Maheshwari weaves, Rajasthan for Kota Doria, Pattu, Gujarat for Mashru, Tanchoi, Patola, Odisha for Tussars, Bomkai, Sambalpur Ikat, West Bengal for Jamdani, Assam for Muga and Eri Silk to name a few. With design intervention by our product teams and along with traditional classic weaves; also adding contemporary designs for everyday living; The brand effectively opens up the distribution for these age-old weaves and creates a sustainable eco-system for our artisans while supporting their livelihoods.

How is the brand trying to bridge the gap between rural and urban India?

Patwa: Every time you buy a Fabindia product you contribute to the heritage of textiles and weaving traditions of India. Drawing inspiration from our rich traditions and marrying it to today's consumer needs; The brand for 6 decades has focused on connecting the dots of the grassroots artisans to urban India. Today, the brand works with close to 50,000 artisans.

About 64 per cent of these artisans are women, 89 per cent are based in rural areas, and approximately 70 per cent work from home. The brand links close to 900 vendors with contemporary urban markets, creating vital avenues for sustained, skilled rural employment while preserving and reviving India's traditional handicrafts in the process.

Our focus is to promote the diverse craft and textile traditions of India and to create sustainable employment in the rural sector while providing timeless, sustainable fashion to our consumers. Educating our consumers via our social media and fab family loyalty platform to appreciate the make in India movement and collectively bridge the gap.

What do you mean when you say, "giving a modern twist to traditional Indian weaves?"

Patwa: Enabling the continuity of traditional weaves is a decades-long endeavour for the brand. This means also listening to our consumers and their changing needs. Just like "Who Made My Clothes", for Fabindia; "Who Made My Fabric" is the essence of our supply chain and the history of our textiles and our artisans. The wisdom of the inherited weaving techniques that are time-tested has enabled our design teams to work closely with our artisan groups to then infuse new colours, patterns, and shapes into the mix to make it contemporary and relevant for today's consumer.

Keeping in mind the evolving preference of the younger generation, along with our classic ethnic kurtas and saris; we are also designing everyday comfort wear, smart casuals for work, and western apparel using these signature weaves and textiles. Consider Fabindia to be a leader and enabler for artisan-driven slow fashion, which finally everyone is talking about globally!

Why is it important for the brand to promote traditional weaving techniques? And how is it making an impact in terms of jobs and livelihood for women in rural areas?

Patwa: Indians have strong sentiments and an emotional connection to collecting beautiful fabrics, saris, and shawls. Weaving is one of the oldest surviving art forms in the world and it is a matter of great pride that India has thousands of unique weaving techniques. As the brand bridges the past with the present through our textile traditions; our product teams are the interventionalists to ensure relevance for our community via design experimentation and the skill of contemporisation.

Today our brand works with 50,000 artisans. The meaningful techniques of our fabrics which also supports traditions and livelihoods is a rare process and will remain as the distinct and finest form of human sensibilities.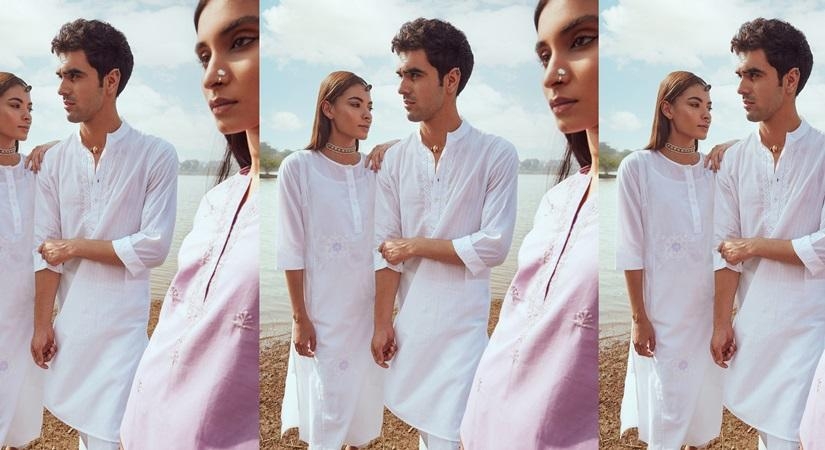 What is your take on PM's Modi push for recyclable and eco-friendly clothing?

Patwa: The fashion industry is the greatest contributor to greenhouse gases. To achieve the NetZero target by 2070, we need to look at Sustainability at a much broader level.

PM's Modi call to action for recyclable and eco-friendly clothing is a step in the right direction and will help to steer the brands to start looking at avenues to reduce their carbon footprint. It is also our responsibility as citizens towards our planet earth and for our future generations to create mindful consumption habits.

Sustainable clothing isn't only about the kind of fabric used to create a garment or the way it is disposed of. It also includes being mindful of the people who work to produce the garment. In simpler terms, sustainable fashion refers to clothes made ethically and in an environmentally friendly manner. From procuring the fabric to packaging the clothes, changes are to be made at every step keeping the goals of sustainable development in mind to reduce the growing burden of fashion on the environment.

The brand is increasing its focus on sustainability and has expanded the number of product lines that create clothing and homeware from recycled goods. Fabindia's sustainable efforts are also designed to create employment opportunities.
ALSO READ-Rakul loves whole Khaadi concept