For the uninitiated, the United Nations declared 2023 to be the International Year of Millets on Prime Minister Narendra Modi's initiative and the suggestion of the Government of India in 2021….reports Asian Lite News
With the beginning of the new year in 2023, India and the UN have launched the first-ever International Year of Millet, with targeted initiatives being carried out by central ministries, state governments, and Indian embassies.
For the uninitiated, the United Nations declared 2023 to be the International Year of Millets on Prime Minister Narendra Modi's initiative and the suggestion of the Government of India in 2021. It will aid in spreading knowledge about millets' major contribution to sustainable agriculture and its advantages as a clever superfood throughout the whole planet.
What are millets?
Small-seeded grasses that are typically referred to as "nutri-cereals" are known as millet. Sorghum (jowar) is one of them, along with pearl millet (bajra), finger millet (ragi), tiny millet (kutki), foxtail millet (kakun), proso millet (cheena), barnyard millet (sawa), and kodo millet (kodon).
The history of millets in India is complex, but it is believed that they were consumed throughout the Indus Valley Civilization. Millets were among the earliest crops to be domesticated in India. They are currently grown in more than 130 nations and represent a staple diet for more than 500 million people in Asia and Africa.
Millets are a key component of the G20 meetings during India's presidency as well, and delegates will get a full millet experience by tasting it, visiting farmers, and participating in interactive sessions with start-ups and Farmer Producer Organizations.
They are a vitally important staple cereal crop because they provide nourishment, resilience, revenue, and a means of subsistence for farmers, as well as having a variety of applications including food, feed, fodder, brewing, and biofuels.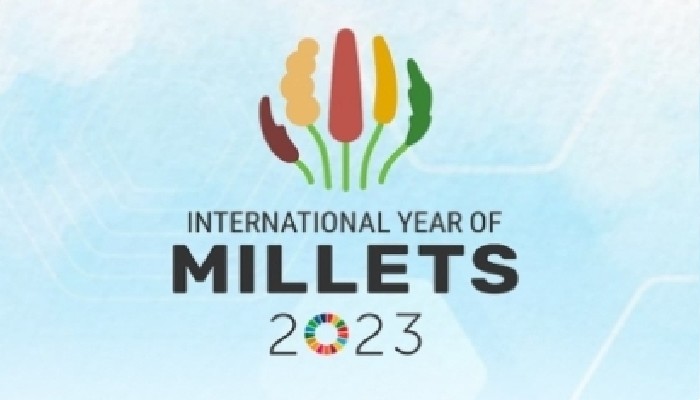 Why did the production of millets decline?
Millets made up around 40% of all farmed grains before the Green Revolution arrived, but that percentage has since decreased to about 20%. Along with a fall in consumption, millets have lost production space to commercial crops like maize, oilseeds, and pulses.
These commercial crops are lucrative, and numerous policies—subsidized inputs, encouraged procurement, and inclusion in the public distribution system—support their cultivation. As a result, eating habits have changed, with a preference for fine, calorie-dense cereals.
India produces more than 170,000 metric tons of millet annually, accounting for 80% of Asia's total production and 20% of world production. India is the world's largest producer of millets and the fifth-largest exporter of them, producing all nine of the regularly used millets.
India's role in promoting Internatonal Year Of Millets
To promote the International Year of Millets and raise awareness of the advantages of millets, central ministries, states, and Indian embassies dedicated a targeted month in 2023.
On December 15, 2022, External Affairs Minister S Jaishankar joined UN Secretary-General Antonio Guterres and UN Security Council members for a "millet lunch" in New York.
In an effort to raise awareness and emphasize the importance of millet consumption, Prime Minister Narendra Modi also attended a lunch in Parliament on December 20, 2022.
Currently, the states of Chhattisgarh, Mizoram, and Rajasthan are focusing on organizing events and activities for January 2023, as is the Union Ministry of Sports and Youth Affairs.
The ministry has scheduled 15 events over 15 days in January, including webinars on grains with top dieticians, nutritionists, and professional athletes, as well as video messages from sportspeople, nutritionists, and fitness specialists.
The Indian embassies in Belarus and Azerbaijan will hold meetings in January with the involvement of regional business chambers, food bloggers, importers of food products, and local restaurants.
140 Indian embassies to participate in events
As the International Year of Millets (IYM) began, Indian embassies across more than 140 countries will be participating in celebration across the year, the government said.
The embasies will be conducting events involving Indian diaspora through exhibition, seminars, talks, panel discussions, etc.
In January, Embassy of India in Azerbaijan and Embassy of India in Belarus will be conducting activities such as B2B meeting with the participation of local chambers, food bloggers, importers of food items and local restaurants.
Exhibitions, contests will be organised with the help of Indian diaspora and Millets dishes will be served as part of the Republic Day celebrations.
Millets are also an integral part of the G-20 meetings and delegates will be given a true millet experience through tasting, meeting farmers and interactive sessions with start-ups and FPOs, the agriculture ministry said in a statement.
The High Commission of India in Abuja and Consulate General of India in Lagos, as part of promotion of IYM, have planned a Millets Food Festival and a Millets Food preparation competition in January 2023.
The Millets Food Festival would be held at the High Commission premises and provide stalls for preparation with invitees including both Nigerian dignitaries and Indian community.
Millets were among the first crops to be domesticated in India with several evidence of its consumption during the Indus valley civilization. Being grown in more than 130 countries at present, Millets are considered traditional food for more than half a billion people across Asia and Africa.
In India, Millets are primarily a kharif crop, requiring less water and agricultural inputs than other similar staples. Millets are important by the virtue of its mammoth potential to generate livelihoods, increase farmers' income and ensure food & nutritional security all over the world.