The Foreign Ministers of the Quadrilateral Security Dialogue met on the sidelines of the eighth edition of the Raisina Dialogue….reports Asian Lite News
The foreign ministers of Australia, India, Japan and the United States affirmed that the use or threat of use of nuclear weapons in Ukraine is 'inadmissible.'
The Foreign Ministers of the Quadrilateral Security Dialogue met on the sidelines of the eighth edition of the Raisina Dialogue, the flagship conference on geopolitics and geo-strategy organised by the Ministry of External Affairs with the Observer Research Foundation. India, US, Japan and Australia are members of the Quad grouping.
"We underscored the need for a comprehensive, just and lasting peace in Ukraine in accordance with international law, including the UN Charter. We emphasised that the rules-based international order must respect sovereignty, territorial integrity, transparency and peaceful resolution of disputes," a joint statement from the Quad said.
Late last month, Russian President Vladimir Putin suspended a landmark nuclear arms control treaty and threatened to resume nuclear tests.
Meanwhile, US Secretary of State Antony Blinken said that the Quad is not a military grouping, adding it is now engaged in working together to help countries to deal with humanitarian situations in natural disasters.
"We are working on things that are really critical," Blinken said at a panel discussion of the Quad Foreign Ministers themed "The Quad Squad: Power and Purpose of the Polygon" in the national capital.
"Quad is not a military grouping…but one of the things that we are doing through the Quad is trying to bring together not only governments, academia, experts to look at where we can collaborate together on the technology, on innovation, benefits in other areas that remains to be seen. But clearly, our four countries in particular are very well placed to increase in a variety of ways our collaboration…," Blinken said.
Quad according to the US Secretary of State is a force for good, positive, and affirmative action.
On Russia's invasion in Ukraine, Blinked said that allowing Russia to do what it is doing will be a message to aggressors everywhere.
"If we allow Russia to do what it is doing in Ukraine then that's a message to the aggressors everwhere that they may be able to get away with it too," Blinken said at the discussion chaired by external affairs minister S Jaishankar and where Foreign Ministers of Australia, Penny Wong and Japan's Foreign Minister Yoshimasa Hayashi participated.
"For us the future is so much in Indo-Pacific…Even as we are rightly focussed on what is happening in Ukraine as a result of Russian aggression, not just because it matters to Ukrainians and to Ukraine and Europe, but because it matters to the entire world," Blinken said.
The eighth edition of the Raisina Dialogue, from March 2-4 was inaugurated by Prime Minister Narendra Modi on Thursday and chief guest Italian Prime Minister Giorgia Meloni delivered the keynote speech .
The conference, organised under the theme "Provocation, Uncertainty, Turbulence: Lighthouse in the Tempest?" is witnessing the participation of representatives from over 100 countries.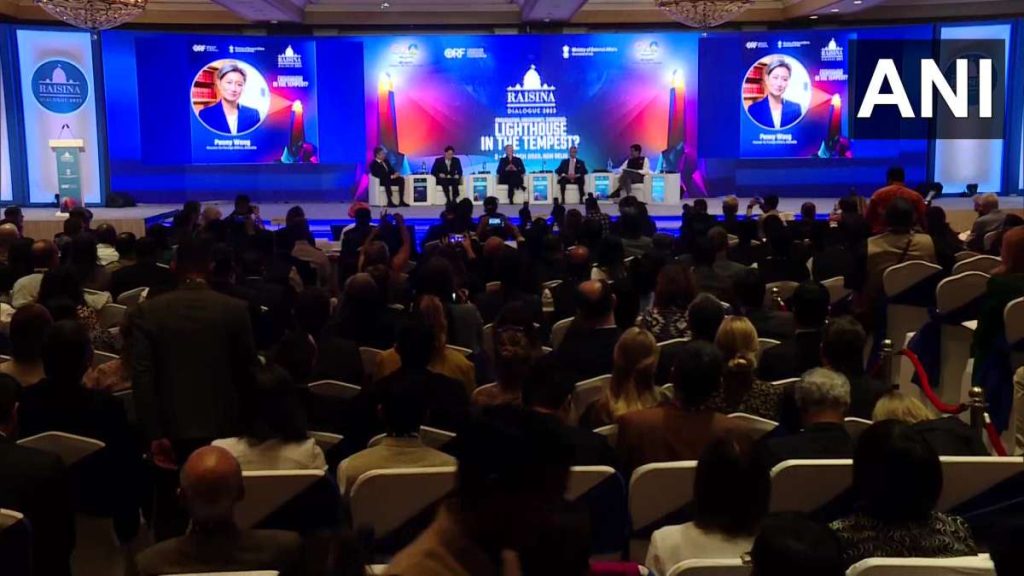 Jaishankar highlights 3 issues
External Affairs Minister S Jaishankar highlighted three big issues that the Quad and the World needs to address, "resilient supply chain, digital challenge and connectivity," at the Quad Foreign Ministers meeting held on the sidelines of Raisina Dialogue 2023.
"Three big issues that Quad and the world needs to address and I think Quad can address and can make a difference. First, more reliable and resilient supply chain, second digital challenge of trust and transparency and third connectivity. I expect these to be a greater part of our agenda," said Jaishankar. He also said that new things came out during Quad deliberations.
"New things which came out today, we agreed on a counter-terrorism working group and SoPs for the Humanitarian Assistance and Disaster Relief (HADR) initiative. All four nations supported the reform of the UN," said Jaishankar.
Began the day by meeting my Quad counterparts Senator Wong, Yoshimasa Hayashi and Secretary Blinken tweeted Jaishankar after the meeting. "Reaffirmed that the Quad is 'for', not 'against'. And for an inclusive, resilient, free and open Indo-Pacific" Jaishankar wrote.
Foreign Ministers of Australia Penny Wong, Jaishankar, Japan's Foreign Minister Yoshimasa Hayashi and the Secretary of State of the US Antony Blinken met in New Delhi today for the Quad Foreign Ministers' Meeting.
They reaffirmed the Quad's steadfast commitment to supporting a free and open Indo-Pacific, which is inclusive and resilient.
They also reviewed progress made by the Quad in pursuit of its constructive agenda and implementation of initiatives aimed at addressing contemporary priorities of the region.
"We strongly support the principles of freedom, rule of law, sovereignty and territorial integrity, peaceful settlement of disputes without resorting to threat or use of force and freedom of navigation and overflight, and oppose any unilateral attempt to change the status quo, all of which are essential to the peace, stability and prosperity of the Indo-Pacific region and beyond," added the joint statement of Quad Foreign Ministers' Meeting.