Holi's vibrant colours-pink hands, green cheeks, scarlet on the forehead, and yellow on the nose-would be meaningless without food. To offer you a taste of Holi and a burst of flavours even after the vibrant celebration we've included some recipes for delectable foods here…writes Olivia Sarkar
GUJIYA
Ingredients
For Dough:
125 gms Maida (All Purpose Flour)
1/4 cup Water
4 tbsp (20 ml)Oil
For Filling:
1/2 tin milkmaid
1/2 cup Semolina (Suji)
1/4 tsp Elaichi (Cardamom) Powder
2 tbsp Kishmish (Raisins)
2 tbsp Kaju (Cashewnuts)
2 tbsp Chopped Badam (Almonds)
150 gms Fresh Grated Coconut
Method
To make the filling, roast semolina (suji) on low flame till it changes colour. Mix in milkmaid, elaichi powder, raisins, cashewnuts, almonds and grated coconut.
Cook on medium/low flame, stirring occasionally, till the mixture is dry. Divide into 16 portions.
To prepare the dough, pour oil into the maida. Add water and make it into a stiff dough. Knead the dough till pliable. Keep aside covered for 10-15 minutes. Knead dough once again. Divide into 16 balls.
Roll each ball into a flat round. Place one portion of the filling, fold it over and shape it into gujiya sealing the edges with little water. Deep fry in hot oil till golden brown.
To seal use gujiya moulds or press with the ends of a fork or simply twist with your hand.
BHAANG KI PAKORI
Ingredients:
For the batter:
1 cup Chickpea flour
2 tsp Salt
1/2 tsp Turmeric
1/2 tsp Chilli powder
1 tsp Mango powder water
1 tsp Cannabis leaves-ground to a paste
For the pakoras:
Various pieces of vegetables for the batter, optional
125 gram Onions-sliced into thin rounds
125 gram Potatoes into thin rounds
deep-frying Oil
Method:
With the ingredients for the batter, make a batter of dropping consistency.
Adjust the water as required.
Mix the onions and potatoes into the batter and sneak in the ground cannabis leaves paste.
Heat the oil in a kadahi till some batter dropped into the oil comes up at once.
Now scoop the pieces of the vegetable out of the batter and drop them into the hot oil.
Fry over medium heat, to very light brown.
Remove from oil with slotted spoon and set aside.
Continue till all the onions and potatoes are used up.
When ready to serve, heat oil again and fry the pakoras over high heat till golden brown.
Remove from oil, drain on absorbent paper and serve with a green chutney.
APPLE KHEER
Ingredients:
2 Apples
1/2 cup basmati rice, boiled
50 gms nuscovado sugar (you can also use normal sugar)
60 gms cashew nuts and almonds
1 Cassia bark or cinnamon stick
to taste red grapes
Method:
Chop 2 apples in cubes and put them in saffron infused milk.
Cook to slightly soften the apples.
Add 4 tsp brown sugar, 1 cassia bark /cinnamon stick and some cashew nuts and almonds.
Bring it to a slow boil.
After some time add half cup of boiled rice, 2 green cardamoms.
Turn down the heat and let the kheer simmer.
Garnish it with slices of red grapes and serve.
ALMOND MALAI KULFI
Ingredients:
1 Cup almonds (blanched and ground)
1 1/2 cup condensed milk
6 tbsp Cream
15-20 Toasted pistachio, chopped coarsely
1/4 cup Milk
A pinch of Saffron
Method:
In a bowl, blend ground blanched almonds, condensed milk and cream together.
Infuse milk with saffron and add the mix into it.
Toast some pistachio and chop them coarsely. Add pistachio into it and blend them well together.
Set them in a matki and cover it with butter paper.
Refrigerate and serve cold.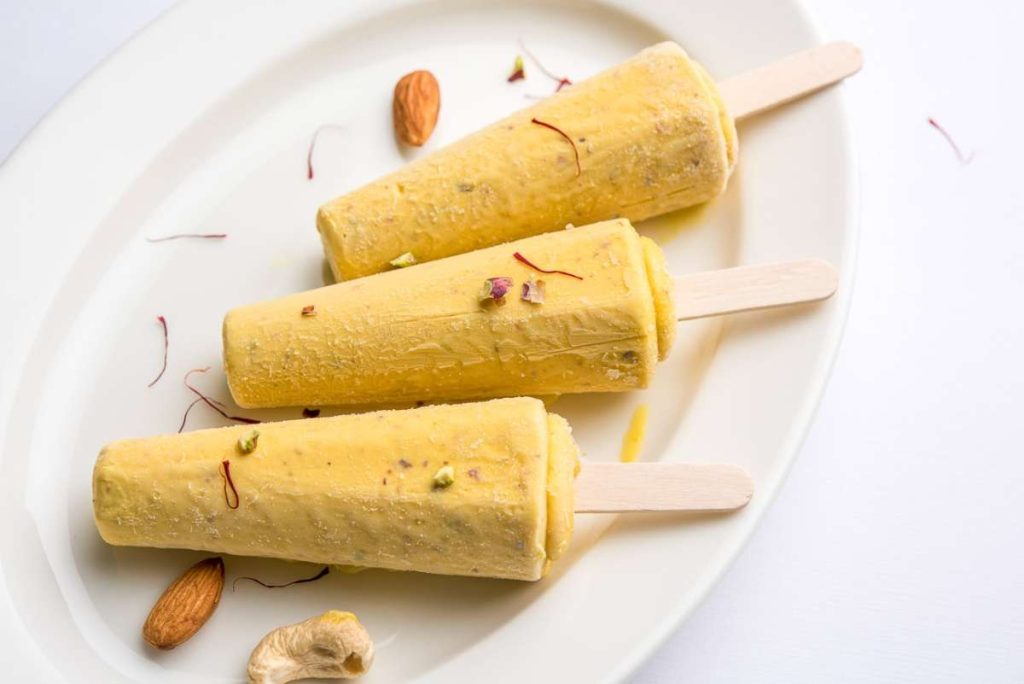 PANEER MALPUA
Ingredients:
100 Gram Paneer, grated
100 Gram Khoya (solidified milk, crumbled)
50 Gram Arrowroot
120 Ml Milk
1/4 tsp Elaichi, powdered
For pan frying Ghee
1 Cup Sugar
120 Ml Water
1/8 tsp Kesar (saffron)
For garnishing Almonds (shredded), blanched
Method:
Place the paneer, khoya, arrowroot and elaichi in a bowl, and beat till smooth.
Mix in enough milk to form a thick smooth batter of dropping consistency.
In a broad pan, dissolve the sugar over low heat in the water, stirring all the time and not letting it come to a boil.
Once it is dissolved increase the heat, add the kesar and let the syrup cook till– a drop on the thumb, pressed with a finger and pulled apart forms a 'thread'.
Heat the ghee, drop equivalent to a tablespoon of the batter into it, lower the heat to medium and cook till light brown on both sides. Lift out of the fat and drop into the syrup.
ALSO READ-Thandai recipes to celebrate Holi