Both sides highlighted the solid foundation of the trade and economic relationship between Canada and India….reports Asian Lite News
In a significant move aimed at increasing their trade and economic ties, India and Canada have agreed to enhance cooperation in coordinated investment promotion and information exchange.
This decision came during the sixth India-Canada Ministerial Dialogue on Trade and Investment (MDTI) held in Ottawa. The meeting was co-chaired by Union Minister of Commerce & Industry Piyush Goyal and Canada's Minister of International Trade, Export Promotion, Small Business and Economic Development Mary Ng.
Both ministers highlighted the solid foundation of the trade and economic relationship between Canada and India. They also recognized the significant opportunity to deepen bilateral ties and economic partnership.
Significantly, in 2022, the bilateral trade in goods between both nations was nearly $8.2 billion, an impressive 25% increase from the year before. Additionally, the services sector was highlighted as a key contributor to the bilateral relationship, with bilateral services trade amounting to approximately US $6.6 billion in 2022.
At the ministerial discussion, Minister Mary Ng praised India's aims in the G20 Trade and Investment Working Group and emphasized her support for it as the G20 Chair. She also mentioned how excited she was to take part in the future G20 Trade and Investment Ministerial Summit, which would be held in India in August 2023.
The ministers emphasized the need for collaboration in areas such as clean technology for infrastructure development, essential minerals, electric cars and batteries, renewable energy/hydrogen, and artificial intelligence (AI). They gave their officials orders to have routine meetings to examine bilaterally significant trade remedy concerns.
After an assessment of the discussions' progress, both ministers reaffirmed their commitment to addressing high-level commitments in the areas of goods, services, investment, rules of origin, sanitary and phytosanitary measures, technical trade obstacles, and dispute resolution.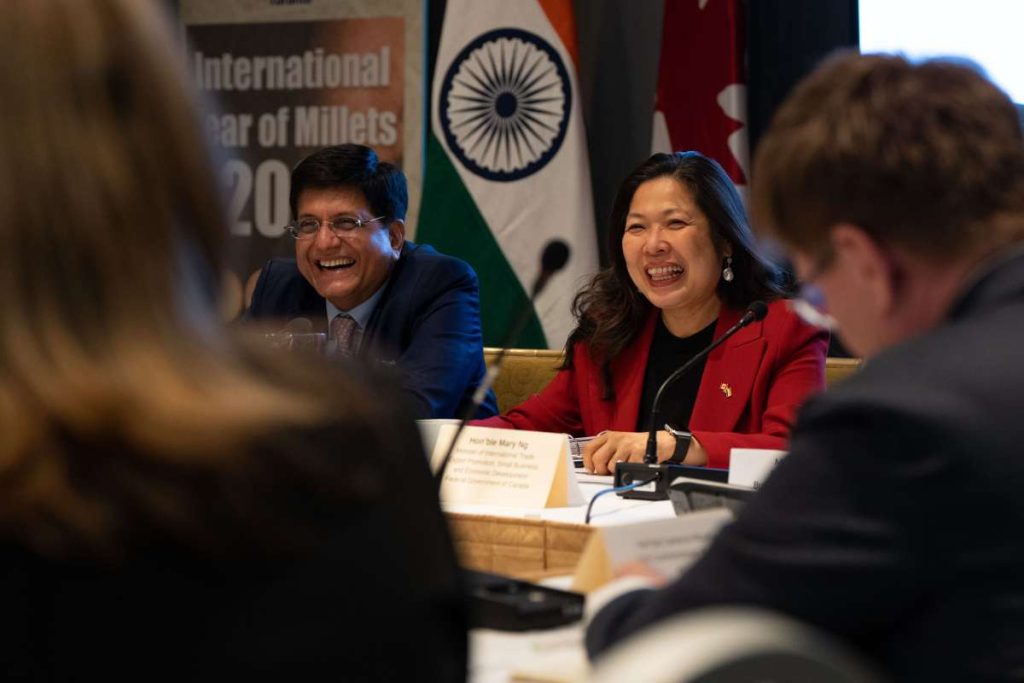 Key outcomes of the dialogue included the decision to explore enhanced cooperation through coordinated investment promotion, information exchange, and mutual support between the two parties. A Memorandum of Understanding (MoU) is also expected to be signed in the fall of 2023, further solidifying this commitment.
Furthermore, both ministers agreed to establish an official conversation annually on the sidelines of the Prospectors and Developers Association Conference (PDAC) in Toronto because they understood how crucial G2G cooperation was in maintaining the resilience of the essential mineral supply chain.
Both ministers concurred that the Canada-India CEO Forum should be revamped and relaunched with a fresh emphasis and set of objectives in order to promote business-to-business interaction. With short notice, it is anticipated that the CEO Forum will be announced.
Moreover, Minister Mary Ng announced that she will head a Team Canada trade trip to India in October 2023 with the goal of fostering even stronger commercial relations between the two nations.
Both ministers highlighted their wish for further conversations on migration and mobility while acknowledging the significant flow of professionals, skilled workers, students, and business visitors between India and Canada. They also spoke about how to collaborate on talent and innovation to develop the bilateral innovation ecosystem.
The two sides decided to create an annual work plan within the MDTI framework, which would be evaluated and reported on a regular basis, to guarantee effective development. In order to maximize the potential of the trade and investment relationship between India and Canada, this strategy seeks to preserve momentum in linkage development and sectoral collaboration. (India News Network)