Lockheed Martin formally recognised TLMAL as a potential co-producer of fighter wings in October 2021 after the latter's successful production and qualification of a prototype fighter wing shipset…writes Venkatachari  Jagannathan
Global defence aerospace player Lockheed Martin and Indias Tata Group have inked an agreement for the production of fighter plane wings at their joint venture Tata Lockheed Martin Aerostructures Ltd (TLMAL) in Hyderabad.
According to Lockheed Martin, the Memorandum of Understanding (MOU) envisions production of 29 fighter wing shipsets, with an option of additional shipsets, with deliveries commencing in 2025.
"These wings are initially intended for the F-16 Block 70/72 jets and would be delivered to our US facility in Greenville, South Carolina, for inclusion into the production/final assembly line. However, the transfer of technology and manufacturing rigor that Lockheed Martin and Tata have demonstrated will transfer to the F-21 if/when selected by the Indian Air Force. We are proposing the F-21 for India and these would be produced in India," a Lockheed Martin official told IANS.
Lockheed Martin formally recognised TLMAL as a potential co-producer of fighter wings in October 2021 after the latter's successful production and qualification of a prototype fighter wing shipset.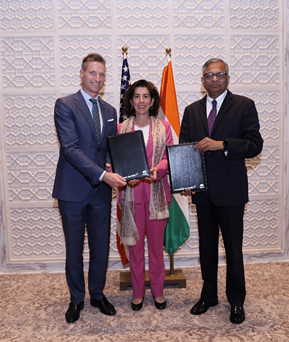 Through this prototype project, TLMAL was required to demonstrate the capability to perform detailed part manufacturing and delivery of a fully-compliant fuel-carrying 9-g, 12,000 hour, interchangeable/replaceable representative fighter wing, Lockheed Martin said on Friday.
"That achievement further strengthened Lockheed Martin's partnership with India, and supports its F-21 offering for procurement of 114 new fighter aircraft exclusively for India and the Indian Air Force by proving additional indigenous production capability. The India F-21 represents an unprecedented strategic and economic opportunity for the US-India relationship and represents a catalyst to future advanced technology cooperation," Lockheed Martin said.
According to the Lockheed Martin official, the F-21 would serve as a force multiplier for the Indian Air Force with an unmatched capability-to-cost ratio compared to the competition.
"In addition, the F-21 is equipped with state-of-the-art systems and sensors that would allow the Indian Air Force to detect, track and engage multiple targets in a contested environment. The current and future state of warfare is and will be centered on gathering and sharing information across multiple domains (air, land, sea, space and cyber) to make effective decisions as quickly as possible. The F-21 will be able to integrate across these domains and across Indian services to provide current and future relevance," the official added.
The F-21 will leverage advanced technologies from across the Lockheed Martin fighter portfolio. It is a single engine, low life cycle cost platform with an optimal max take-off weight right in between the Rafale and Tejas.
"Our F-21 offer is also 'Make in India' which addresses the goals of 'Aatmanirbhar Bharat' while providing India with an improved security cooperation relationship with the United States," ythe official said.
Also, the F-21's industrial offering will put India at the epicentre of the world's largest fighter production and sustainment market, creating thousands of highly-skilled jobs in India, the official added.
Tata Advanced Systems Limited and Lockheed Martin Aeronautics had established TLMAL as a joint venture in 2010.
TLMAL serves as the single global source of C-130J empennage assemblies that are installed on all new Super Hercules aircraft. To date, TLMAL has manufactured and delivered nearly 200 C-130J empennages.
"I am proud of Tata Group's partnership with Lockheed Martin on this prestigious project. I would like to congratulate the TLMAL team for successfully industrialising and qualifying the fighter wing in spite of the technological complexity involved. I am confident the initiative of manufacturing fighter wings in India will go a long way in strengthening the aerospace and defence manufacturing ecosystem in India," said N. Chandrasekaran, Chairman, Tata Sons Pvt. Ltd.