Investments under the partnership will seek to build new supply chains underpinned by critical minerals processed in Australia…reports Asian Lite News
Working towards investment in critical mineral projects, including lithium, to develop supply chains between the two countries, India and Australia held bilateral talks on Friday.
The Union Minister for Coal, Mines and Parliamentary Affairs, Pralhad Joshi, and Minister for Resources and Northern Australia, Madeleine King, announced the partnership and have identified five target projects (two lithium and three cobalt) on which to undertake detailed due diligence.
Ministers from the two countries have also agreed to deepen cooperation and extend their existing commitments to the India-Australia Critical Minerals Investment Partnership.
Investments under the partnership will seek to build new supply chains underpinned by critical minerals processed in Australia, that will help India's plans to lower emissions from its electricity network and become a global manufacturing hub, including for electric vehicles.
"The partnership between India's Khanij Bidesh India Ltd (KABIL) and CMO Australia has reached the first milestone in a short span of one year from signing of the MoU in March 2022 between both the organisations," said Joshi.
Minister King said India's goals to lower carbon emissions and boost electric vehicle production presents great opportunities and prospects for Australia's critical minerals sector, renewable exports and building stronger supply chains.
"Working together, both the nations are committed to reduce emissions, guarantee energy security and diversify global markets for critical minerals and clean technologies," the Minister added.
Australia produces nearly half of the world's lithium, is the second-largest producer of cobalt and the fourth-largest producer of rare earth elements. With the expected increase in global demand for low-emissions technologies over the next three decades, this partnership will go a long way towards securing mutually beneficial critical mineral supply chains.
Union Minister Joshi visited Western Australia in 2022 and toured Tianqi Lithium Energy's Kwinana lithium hydroxide refinery.
The partnership on critical minerals has taken further momentum after the visit of Minister Joshi to Western Australia.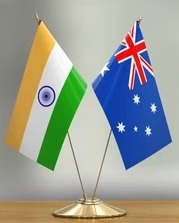 India-Australia to finalise economic cooperation agreement
During the meeting of joint ministerial commission between Union Commerce and Industry Minister Piyush Goyal and his Australian counterpart Don Farrell on Saturday, both India and Australia have committed to conclude the negotiations for expanding the scope of existing free trade agreement by the end of 2023. Both countries also decided to aim to push bilateral trade to USD 100 billion.
Australia's Minister for Trade and Tourism Don Farrell, who is accompanying Australian Prime Minister Anthony Albanese on an official visit here in New Delhi, said that the two countries "can achieve" this target. Last year, on December 29, India and Australia implemented an economic cooperation and trade agreement (ECTA) and are now negotiating to expand its scope for a comprehensive economic cooperation agreement (CECA).
"ECTA was the first stage of our economic engagement. We are now entering into phase-2 of our discussions where we are looking at much wider ambit of subjects and taking this into a CECA," Goyal told reporters during a joint press conference here.
Both the ministers have expressed "unhappiness" towards the trade negotiators and said they "will be much more ambitious and aim for a USD 100-billion trade between the two economies", he said.
Farrell said that the two countries "can achieve" this target.
On the deadline to conclude the CECA negotiations, Goyal said that though anything done with a deadline is always "dangerous" as "you may land up making mistakes", but "we" must do things fast.
Both the trade ministers, he said, are committed to speed up the negotiations.
Both the prime ministers have "collectively tasked us to work towards closing the CECA negotiations within this calender year. We would love to do that. We would work to engage in a same spirit as ECTA and hope for quick outcomes without compromising on its quality," Goyal added.
He also said that "we are very very dissatisfied" with the USD 30-billion bilateral trade and the officials of India and Australia have kept a target of USD 45-50 billion in the next five years.
Goyal said huge opportunities are there to increase cooperation in areas like education, technology, audio-video services and sports.
While Australia has some "very" fine technologies, best of education institutes and sports, India can offer in terms of its talent pool, manufacturing base and startup ecosystem, he said.
On increasing agri trade with Australia, the Indian commerce minister said that there are several areas of mutual interest, which are under consideration of agriculture ministries of both sides to resolve sanitary and phyto-sanitary (related with plans and animals) problems.
After the first India-Australia summit talks here on March 10 on a range of key issues, Albanese has said that both countries are looking at firming up the ambitious CECA by 2023 while a joint statement mentioned that the two prime ministers tasked the concerned officials to expedite the conclusion of a Migration and Mobility Partnership Arrangement (MMPA) within the next three months.