Chinese President Xi Jinping is likely to secure a third term in office as President….reports Asian Lite News
Chinese Communist Party will convene its 20th Party Congress on October 16 in Beijing, state media Global Times reported Tuesday, citing a meeting of the party's Politburo, the country's top decision-making body.
During the meeting, which takes place every five years, Chinese President Xi Jinping is likely to secure a third term in office as President while a new top leadership line-up will also be unveiled.
As per the media portal, the meeting decided that the seventh plenary session of the 19th CPC Central Committee is to be convened on October 9 in Beijing while the 20th CPC National Congress is to be convened on October 16 in Beijing. Presiding over the meeting was Xi Jinping, the general secretary of the CPC Central Committee.
Chinese President Xi Jinping, who seeks a third term in office, is already calling for cadres in leading positions to remain loyal to the spirit of the party. However, one must not be forgetful that Xi Jinping's bid for the President is marred with much-criticized strict "Zero-COVID" policies that have brought the entire nation to the brink of economic collapse.
Despite a rise in the party membership of the Chinese Communist Party (CCP), President Xi has expressed concern over the loyalty of party members towards him as he continues to bid for the third presidential term.
The party members often have "dual" loyalty, which includes loyalty to the party and loyalty to Xi himself. However, it is crucial to note that most government job positions in the country require the individual have a party membership.
In case a government position does not require party membership, it is extremely difficult for a person to get a promotion without joining the party, Jianli Yang wrote. People who have not joined the part might face obstacles in private sectors as well and can be said for all sectors including business, academia, sports and entertainment.
Despite various attempts by the President to reaffirm party members' commitment to its ideologies, the members are self-serving. While most critical posts are quickly removed by state censors, there has been a rise in the criticism of the Chinese President from potential political opponents, including party members and non-members.
Articles, which are also written by the party elites, are being circulated online to prevent Xi from being elected during the third presidential term. Xi Jinping needs at least 96.7 million loyal party members to secure the term.
A "mind-reading" artificial intelligence which can measure citizens' loyalty to the CCP was developed by researchers at China's Comprehensive National Science Center and it can be used to increase their obedience to the party.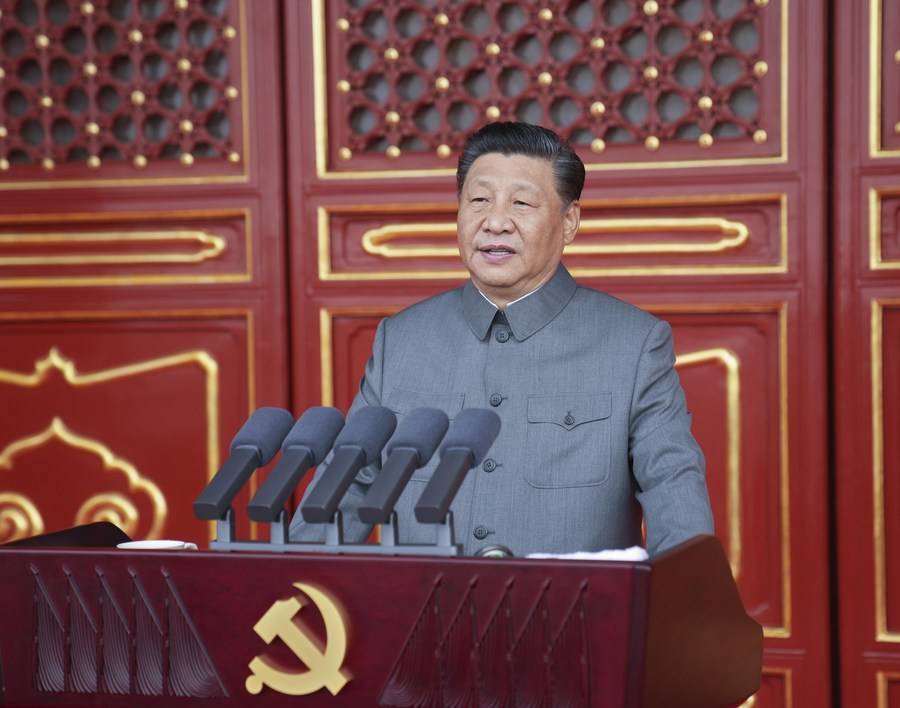 'Scathing attack on Xi's personality cult'
In a veiled attack on Chinese President Xi Jinping, a letter, reportedly written by the Communist Party of China's (CPC) leading cadres, discusses the issues of personality cult and makes such recommendations in the letter which are detrimental to the rule of the CPC and will ultimately pose threat to Xi's power.
It appeared through social media and was then picked up by various non-mainstream Chinese media. This letter dated August 22 appeared to be first posted by a Twitter account on August 25 and the latest engagements of the account show that it is highly anti-Xi.
The writers of this letter have been termed Communist Party of China (CPC) elders in some articles and Twitter posts. CPC elder was a term used to describe Chen Yun, Peng Zhen, Bo Yibo (Former Chinese politician Bo Xilai's father), and even Xi's father Xi Zhongxun. A few other CPC elders were also consulted before Deng Xiaoping, who was the most powerful CPC leader, called the shots in the 80s and 90s.
Whereas these three members of the CPC, although old in age, do not appear to be party members in important positions. However, the content of the letter merits a deeper look because it comes from people who are veteran party members and are still living in China (according to a prominent Chinese human rights defender website's post). The post also says that they are currently under strict surveillance and may be in personal danger but they are ready for anything.
Non-mainstream HongKong media states that these three party members are residents of Handan City, Hebei. The letter mainly calls for reforms in the existing system and greater responsibility and accountability. It also tries to make a veiled attack on the personality cult Xi has been trying to build for himself.
The letter makes two recommendations. First is to remove the sentence in the Party Constitution's General Outline section: "Party, government, military and civilian affairs, in the east, west, north, south, and the center, the party leads everything."
The letter says that this phrase first appeared during the Cultural Revolution under Mao Zedong's instructions so as to restore order as soon as possible but has no wider meaning. It says that quotations from the past should not guide today's practice.
It also says that the reach and power of party committees are unreasonably vast which has led to leading cadres of the party being corrupt whereas CCDI should publicize the details of the personal property of the leaders. (ANI)