The overall flood situation in Bangladesh has improved in most of the districts with water levels receding in many rivers, an official said on Thursday.
Sarder Udoy Raihan, Bangladesh Water Development Board (BWDB) executive engineer, told Xinhua news agency that water levels receded at most of the 101 observation points across the four major river basins.
He further said three major Brahmaputra-Jamuna and Padma rivers are in a falling trend, while the Ganges river is in a steady-state and would remain stable in the next 72 hours.
Of the total 101 river observation points, Raihan said the water is currently flowing above the danger level merely at two points.
Since June, he said, the floods triggered by heavy seasonal rains and onrush of water from hills have left a trail of death, misery and destruction in their wake.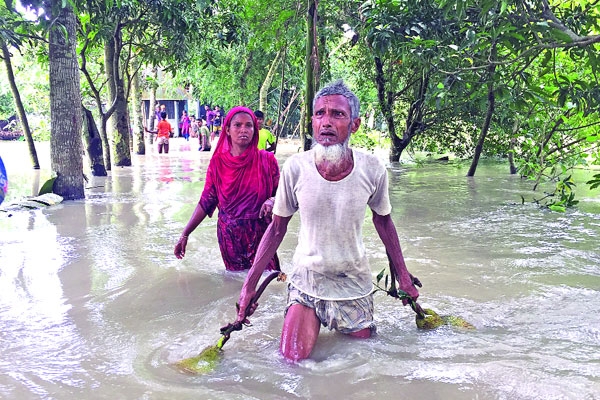 The disaster situation report prepared by the country's National Disaster Response Coordination Center (NDRCC) under the Ministry of Disaster Management and Relief said at least 5 million people have been affected by the floods while thousands of families were forced to flee home.
Three waves of devastating floods have claimed hundreds of lives in Bangladesh.
According to a flood report of the country's Health Emergency Operation Centre and Control Room, the floods have killed 226 people in 33 (out of 64) districts since June 30.
The loss of crops due to floods in Bangladesh was estimated at 13 billion taka ($156 million).
Meanwhile, Bangladesh on Thursday reported over 2,400 new Covid-19 cases and 45 more deaths, taking the tally of confirmed cases to over 304,000, and death toll to 4,127.
According to the figure reported by the Directorate General of Health Services (DGHS) under the Ministry of Health and Family Welfare, the number of confirmed Covid-19 cases in the country reached 304,583, including 2,436 new cases on Thursday, Xinhua news agency reported.
The DGHS said in a statement that "45 more people died in the last 24 hours".
The official data showed 15,124 samples were tested in the last 24 hours across Bangladesh.
The total number of recovered patients in the country stood at 193,458 including 3,275 new recoveries on Thursday, said the DGHS.
According to the official data, the Covid-19 fatality rate in Bangladesh is now 1.35 per cent and the current recovery rate is 63.52 per cent.
Bangladesh recorded the highest daily new cases of 4,019 on July 2, and the highest daily death of 64 on June 30.